I almost didn't blog this week. You know, like last week. But I have a lot of good reasons that don't involve wasting my time playing Civilization. Well, I did that, but I finally finished my chapter, did a ton of school work, fought with financial aid, had a busy work week, and am now sitting here with my dog, ready for the attack of the blog.
So yeah, in a nut shell, I went to work and got prepped for the starting of the fall semester. I'm currently halfway through Bradbury's The Martian Chronicles. I first read it half-assed when everyone else was reading along to Huck Finn in English class. I didn't really enjoy it the first time around, but I also didn't really understand McCarthyism, nor did I really pay it much attention since I had to periodically pretend that I was paying attention. Now that I'm reading it with a contemporary mind aged about 18 years, I'm noticing more to it. Also, I've never really been too stoked on Bradbury from any of the other books I've read from him (Something Wicked This Way Comes, The Illustrated Man, & Dandelion Wine) but something about this book this time around, I'm enjoying the poetry of Ray's prose. While it seems dated in some regards, particularly the romantic Mars of H.G. Wells and E.R. Burroughs, and the pre-space race knowledge of what it was like traveling to outer space, the novel has a certain charm, mingled with a 1950's paranoia and sense of blind optimism.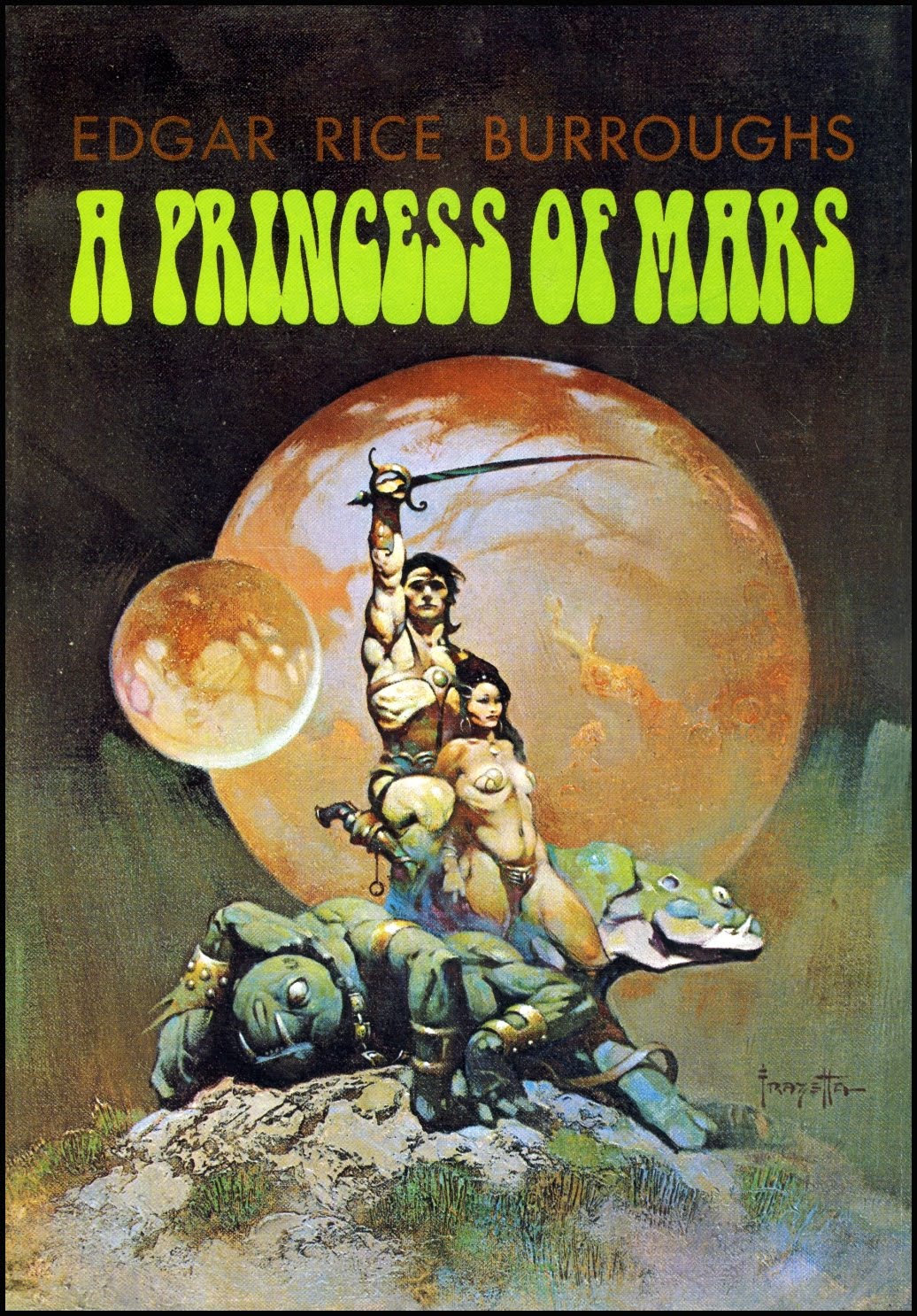 I don't care who you are, that's a sweet cover.
A Princess of Mars was quite a pulpy and overly dated adventure. Not like I could expect more from Edgar Rice Burroughs in 1912, but despite its shortcomings by contemporary standards, it still has plenty of things that awoke that boyhood spirit of adventure in me. Even if at it's heart it's a story about a Mary Sue former Confederate officer that basically wins everything on Mars by fortune and force of will. He teaches savage warlords how to love, he rises to the top of the civilized and technologically advanced army in one battle, he ends a bloody civil war, and beds the most beautiful and beloved princess on the red planet. All in a days work for our hero, John Carter. It's one of those stories about the white man's burden that really could be about anyone else, but because it comes from a time of social bigotry and backwards thinking, it's unfortunately really a book about systematic racism and power fantasies. However, it's also just a bad ass, ultra-violent, kinda ridiculous, tell not show, sword and sorcery romp on a dying planet, so it's technically science fiction. The main saving grace is the world building Burroughs does. The world of Barsoom and all it's rich inhabitants are just as much racial space opera expys as all the ones from Mass Effect, but I'll be damaged if they're not both dear to my heart. Speaking of Mass Effect, the Krogan are totally just shorter Tarks missing a set of arms. They even keep Caldor's, aka Varrens. Still, choice read if you don't want to think to hard and just get wrapped up in a dumb adventure story that's fun to read.
Besides my playing Civ (I managed to pull off a culture victory as Gandhi after having to eliminate Kamehameha since I didn't have enough time to wait for Polynesia to come under my influence) and reading Mars fiction, I've been overloaded with work from Spanish class. I wish I had a group of six other ethnically diverse people to form a study group and have wacky online adventures with. Maybe we'd even have a
catchy theme song
sung by some Alt Rock band. I would type something funny for you to toss into Google translate, but I'm sick of halbar Español for today, or however you conjugate hablar in Spanglish. I spent most of my time setting up all the ridiculous hoops one has to jump through when learning a language online for credit. The online third party site, with proprietary useless book that's a vessel for the $150 access code so you can participate in the class.
BTW, if you've been under a rock for the last few decades, higher education is a damn grift.
So, book reviews, life update, oh, right... novel chapter. So I just wrote today's chapter. This is essentially a first draft. Not really a rough draft, but definitely all new material that hasn't had much editing. This actually got an upvote on /r/cyberpunk_stories (which is standard), so I've got that going for me. We say it's not about the internet points, but how else am I supposed to gauge if I'm on the right track with the limited fanbase I'm shilling to?
So let's kick some tires and light some fires. Dog: